Home › Programmes › PNG Managing Olympic Sport Organizations
---
PNG Managing Olympic Sport Organizations
PNGOC Papua New Guinea Managing Olympic Sport Organizations
VISION: ADMINISTRATORS CONTINUOUSLY INNOVATIVE IN EXCELLING IN OLYMPIC SPORT ORGANIZATIONS
FOR PAPUA NEW GUINEA SENIOR EXECUTIVE LEVEL ADMINISTRATORS OF NATIONAL FEDERATIONS AND SPORTS ORGANZIATIONS AND ORGANIZATIONS INVOLVED IN SPORTS PROGRAMMES.
Olympic Solidarity / Oceania Sport Education Program (OSEP) / Papua New Guinea Olympic Committee (PNGOC) have combined effort to provide PNG MOSO 1, the first national programme in the country and in the Oceania Pacific region to Olympic Sport Organizations including Papua New Guinea Olympic Committee, National Federations, and organizations involved in providing sports programmes.
In alignment with the Olympic Solidarity training tools and the Oceania Sport Education Program (OSEP) curriculum using the competency based framework, PNG MOSO 1 is based on the Managing Olympic Sport Organisation (MOSO) book as the key reference tool.
PNG MOSO 1 is spread over 2015 and 2016. There are 8 sessions of three days duration at different months of the year with mentoring programmes in between allowing for direct interaction between Facilitators and Participants. Initially the Participants targeted will be Port Moresby based senior executives.
Target Participant Cohort
The course is designed for executive level volunteers (i.e. board members of national sport federations and the PNGOC). This also includes senior paid staff in sport organisations in the country who further expand their managerial skills while actively contributing to a unique learning community. Through their engagement in this competency based framework, Participants will learn the skills to effectively manage their sport organisation and ultimately improve sport as a whole in their sport and country. It is important that participants applying are at middle or senior management positions to actively and effectively contribute to discussions and competently complete the assessment tasks during each unit. More importantly, be in a position to implement the skills gained from this training. Support by the sport organisation is essential so that the participant has regular access to a sport organisation to apply the course learnings and bring about appropriate changes.
Selection Criteria & Entry Qualification
There are 16Participants with a balance of men and women preferred. The subsequent MOSO programmes will be available to other organizations dealing with sports, physical education leisure & recreation and sport promotion. The other entry qualifications are that Participants must have a good command of English with the ability to write reports and be computer literate.
A key feature of the training is the use of the ONOC Readiness Assessment Tool (RAT) to assess organisational readiness to undertake certain sport programmes. Participants must be prepared to provide these documents when requested. Familiarity with these documents and implementation is required as this will make the learning relevant and useful.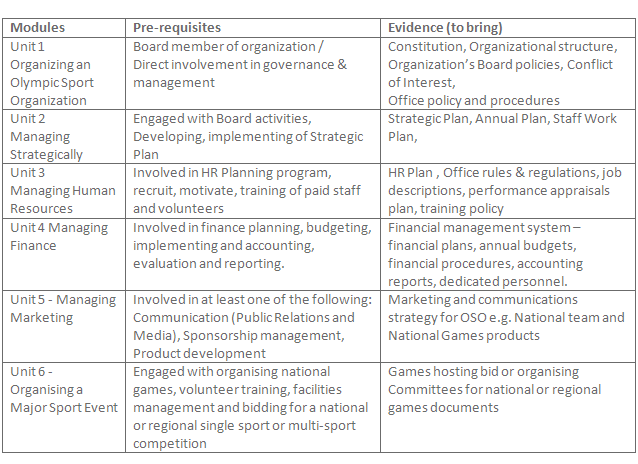 Participants must produce a letter of recommendation by their sport organisation supporting their involvement including financially when required and enabling access to information in the organisation for assessment purposes.
The Dates: TBC
The Venue: The first 15 – 16 Participants will be Port Moresby based senior executives. They will be accommodated where the Programme will be run with partial meal provision.
Course Facilitators
Qualified facilitators with either academic and/or practitioner experience regionally and internationally have been sourced to deliver this national training program. The lead Facilitators for PNG MOSO 1 are:
Peter Chalapan
John Jambert
Sir John Dawanicura
Tamzin Wardley
Andrew Lepani
Auvita Rapilla
Other Facilitators are also available as needed.
Assessment
Participants are required to attend 100% and actively participate in the face to face sessions of all 6 Units.
There are two 2000 – 3000 word case studies each is required to write as well as present power point presentations on all 6 Units during the course of the training.
They are to competently complete these assessment activities to successfully complete the course.
Learning Materials
Participants are provided a MOSO text book, a Learner's Guide, copies of the power point presentation and case studies for relevant modules. Access to various help sites as well as where templates and other documents can be downloaded.
Information on the MOSO Book
The MOSO Book was developed in cooperation with Executive Masters in Sport Organisation Management (MEMOS) experts. It provides the primary content for the learning experience and is the framework for delivery of the courses. The illustration and case study materials presented in this book are taken from Olympic Sport Organisations throughout the world and represent a balance of sport management theory and practical examples, providing a rich and extensive database of applied material.
By using this book in the course, participants should be able to identify what is and is not appropriate for their organisations and learn how to specifically apply the information to improve their sport organisations.
Certification
After assessment of competency is completed successfully, Participants will obtain a Diploma recognised by the Olympic fraternity through the Olympic Solidarity under the International Olympic Committee (IOC), National Olympic Committees, Oceania Olympic Committee and its 15 member countries. This certification provides you with relevant qualification with enhanced capacity to write relevant and progressive policies supporting your Athletes and better managing your national federation, sport organisation (e.g. NOC, NF, Sport Council, Department of Sport) and related focus.
How to Apply?
Through your National Federation using the attached application forms. Other forms of application will not be accepted. You can contact the Programme Director, Ms Alurigo Ravusiro on aravusiro@pngoc.com.pg or +675 7327 5236 for clarification and further information.